Micro Fiber Cloth
The incredible KD Cloth
Try the incredible KD Cloth.  You just wet, wring and wipe. With this microfiber cloth, no soap or other chemicals are necessary.  The very fine microfibers do the cleaning.
Just $8!
Use the incredible environmentally friendly microfiber KD Cloth to clean virtually anything in your house without soap or any other chemicals.
The Incredible KD Cloth:
Cleans & polishes windows, mirrors, windshields, glass - all hard surfaces.
Leaves a streak free, spot free, lint & dust free finish using NO chemicals or paper towels.
One step process cuts cleaning time in half - verified by professionals who use it!
ABSOLUTELY, POSITIVELY, NEVER Streaks Glass, Mirrors, or Windows.
Protect the environment - never buy window cleaner again!

Order the Incredible KD Cloth with FREE SHIPPING

CLEAN GREEN
Use ONLY Water:
Removes:
Grease
Fingerprints
Brake Dust
Soap Scum
General Dirt & Dust
---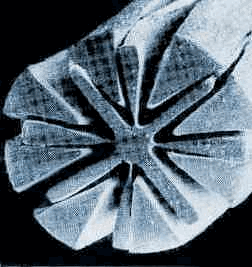 This ultra-fine KD Cloth does not damage any surface. The fibers grab and hold dirt, dust and grime. This is the magnet effect.

Made from 80% Polyester, 20% Polyamide (nylon). Single fiber is approximately 1/20th the diameter of a strand of silk. Removes  oil, grease, dirt, grime, film, dust. Tough on dirt and gentle on surfaces.
How it works:

KD Cloth holds 7 times its weight in dirt, grime and liquid.

Each fiber is 200 times finer than a human hair! This is the secret of microfiber's incredible cleaning ability.

Open spaces between fibers hold dust, dirt, and oil until washed away with mild soap or detergent.

Spaces also allow large amounts of moisture to be collected into the cloth making it very absorbent. These same spaces allow for quicker drying time eliminating much of the bacterial growth found in slow drying cloths.
Ordinary Cloth Fiber:
Tends to push dirt and dust. Residue is left behind on the surface of the area being cleaned.  This explains the appearance of streaks after the surface dries. 

Lack of interior open spaces makes ordinary cloth hold very little dirt.



Washing Instructions:
Machine wash with laundry detergent or hand wash with dish soap in hot water. Rinse thoroughly. Using bleach will shorten the life of your microfiber cloth.  Do not use fabric softener (fabric softener leaves a film on the cloth and decreases its effectiveness).

Be careful when machine washing in mixed loads, as micro fiber cloth will pick up lint from other fabrics. Air dry - do not place in dryer.
Order the Incredible KD Cloth with FREE SHIPPING.